Kofta
Silvena Rowe shares her recipe for delicately spiced meatballs made with pinenuts and golden sultanas
Kofta
Kofta are traditional across the Eastern Mediterranean. This recipe includes beef and veal spiced with cinnamon, allspice and paprika.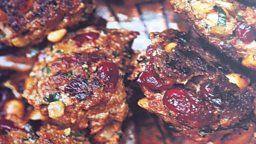 Subscribe to our download or sign up to our newsletter to be kept up to date with all cookery items.
Ingredients
200g Minced Beef
200g Minced Veal
1 onion, peeled and finely chopped
3 garlic cloves, peeled and crushed
50g golden sultanas
50g pine nuts, roughly chopped and lighted toasted
½ tsp Hungarian paprika
1/8 tsp ground allspice
1/8 tsp powdered cinnamon
1 egg white, lightly whipped
A small bunch of fresh coriander, finely chopped
A small bunch of fresh mint, finely chopped
Salt and pepper
2 tbsp vegetable oil
Preparation Method
Combine the beef and veal in a bowl, then add the onion, garlic, sultanas, pine nuts, paprika, allspice and cinnamon. Mix well, then add the egg white and mix again. Finally add the fresh herbs and salt and pepper to taste and mix thoroughly.
Shape the mixture into small balls the size of golf balls.
Heat the oil in a frying pan, then sauté the meatballs, a few at a time, turning occasionally, until cooked through and brown on all sides, about 10 minutes.
Serve hot or at room temperature.
Tips and Techniques
1. You can use different meats for the kofta: lamb, beef, pork, chicken or veal mince.
2. For a lighter flavour you can add breadcrumbs soaked in milk. This also helps the meat to go further.
3. Dried sour cherries make a good alternative to sultanas and add a sweet and sour note. 
Browse our selection of recipes from top chefs, cooks and food writers who have joined us on Woman's Hour.