Flora's Memorial
Flora's health began to decline after the shock of losing her son Peter in World War II.
Peter was on board the Jedmoor warship when it was lost at sea in 1943. Flora contracted pneumonia shortly afterwards, and from then on suffered from angina. Flora continued to write, although Lark Rise To Candleford was the last work published during her lifetime.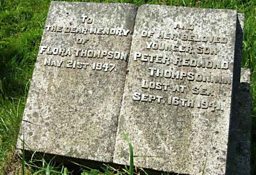 Flora died from a heart attack in 1947, and is buried in Longcross Cemetery in Dartmouth, with a memorial to her son Peter alongside. One of her works published posthumously is Heatherley, which details Flora's life in Hampshire.