Moorcroft
Moorcroft was founded as a studio in 1897 by William Moorcroft within the James Mackintyre & Co ceramics company in Stoke-on-Trent.
In 1904, Moorcroft won the gold medal at the St Louis International Exhibition. This was followed by further medals and commendations, and Moorcroft's pottery quickly became world renowned. By 1912, the inevitable split happened and Moorcroft led his workforce across Cobridge Park to a new factory in Sandbach Road, where Moorcroft pottery is still made today.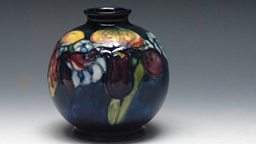 Money to start the new factory came from the famous store, Liberty, in London, where it remained in control of Moorcroft until 1962. The Moorcroft name continued to flourish in its new surroundings, such that they became the Potter to HM Queen Mary in 1928.
William Moorcroft died in 1945 and his elder son Walter took over management and design. Combined, William and Walter created 80 new designs under the Moorcroft name, and in 1962, the Moorcroft family bought out Liberty for ownership of Moorcroft. In the following years, the Moorcroft brand fell into difficult times and shares went into the open market. In 1993, the Edwards family took control of Moorcroft and remain so to this day.
Moorcroft's world profile has greatly improved once again over the past few years, with quality and value at an all-time high. Christie's hold a Moorcroft sale every year and many national museums now house significant pieces of pottery in their permanent collections, including the V & A Museum in London.
Moorcroft pottery is designed by members of the Moorcroft Design Studio – a handful of select artists, each highly skilled to produce the Moorcroft distinctive Art Nouveau style. Its range is vast but includes vases, bottles, picture frames, and lamps. Moorcroft designers also dedicate a large portion of their time in the creation of exclusive designs, and these are sure to become highly valuable collector's pieces.
Flog It! top tips
Look out for items that are made pre-1945, particularly by those made by William Moorcroft.
The most expensive items sold at Christie's to date is a collection of 'Claremont' pottery circa 1905, which sold at London South Kensington in March 2010 for £15,000.