Q&A with Rob Ostlere (Arthur Digby)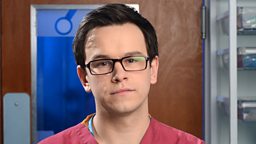 What was the first thing you did when you found out you'd got the role?
I rang my sister who's a massive Holby fan and she was in a supermarket queue at the time, but I think she started to hyperventilate! When I went for the audition she said to me "please get that", after I got it she kept saying things like "Are you going to act with Malick? That's incredible!". I rang a lot of my family – that's what I normally do when I get a part, they're always the most pleased.
Did you do any special preparation for playing a doctor?
I went with Ty to a hospital which was very interesting, we spent the day with a consultant and a registrar. We saw surgery which was incredible. Just seeing the surgeons was brilliant – they're like rock stars with an entourage and an aura. We also followed F1s (foundation doctors) around and saw how difficult it is for them and how quickly they have to emotionally adapt to what they deal with – we found it really harrowing seeing patients, but the F1s were wonderfully professional.
I also have a friend who is training as a nurse so I spoke to him about what F1s are like and what young doctors are like. I had this image in my head of the geeky young doctor, but he told me actually a lot of them are really cool people.
Did you swot up on Napoleonic history?
I didn't. I'm actually a big history fan myself – it's slightly worrying that I share several traits with Arthur. When I came in to meet the producers on the first day they saw the bag I was carrying and though it was a great character choice for Arthur – I had to tell them it was my bag, not a prop.
What was your first day like?
My first day was great because it was a scene in Albie's – a New Year's party scene – so I was with Jimmy and Lauren. I spent the whole day feeling cold and asking other people if they felt a chill – they were all fine. Then I went home had to go straight to bed – I'd got some horrible bug. I was really lucky I wasn't scheduled to be in for the next few days – it wouldn't have been a great way to start the job "Nice to meet you – sorry I'm off sick". But it was a great first day despite that.
What do you love most so far on Holby?
The people are amazing. I never worked on something this long term before, to work on something and feel part of the family is a wonderful feeling. Everyone's so good at their jobs you can relax and have fun. It's a really great atmosphere – the production office, the crew, the cast, the SAs everyone gets on really well. I think who you get to work with is so important. The pace also isn't so frantic that you can't take you time and get the performance you want – I was quite surprised it wasn't more rushed given our timeframe, but everyone really cares about getting the best.
What's scared you about Holby?
I never felt too scared because they looked after us so well – I spent time with costume and the producers before I started filming. The director called me a couple of weeks ahead of filming and was happy to talk through any questions I had – so I felt really comfortable. I think also starting at the same as Ty is a massive bonus. Everyone's been so welcoming that any minor doubts I had were washed away. I think I was most scared going for my final audition. I've never done an audition on a set before, so that was new and a little scary.
What do you love about Arthur?
I like the fact that he's got his own sense of logic so in his head he's got quite a different way of seeing the world than a lot of other people. It means he can react in his own unique way – I have a lot of fun working out why Arthur think or responds in a certain way. There's always a justification for how he behaves, it's not out of meanness or spite, his actions feel like the right thing to do from his logic. I also am getting quite into the costumes, they had me in some quite out there stuff in the first episode, but I'm beginning to enjoy the preppy look. I also get to do a great mix of things with Arthur: there's physical comedy, he falls over things a lot but there's also real emotional drama.
What's Arthur's flaw?
He's got quite a few I think. Probably mainly that he's socially not very sensitive, he doesn't pick up on other people's moods or feelings too well. He puts a lot of pressure on himself to succeed and has a lot of doubts his abilities. He's very good at the knowledge side of being a doctor, but how to behave with patients and other doctors he struggles with, which undermines his ability to do the job. At least he's aware he's not good socially, but it's probably harder. I think everyone has that little voice in their head that questions everything, but for Arthur it's massive.
What can we look forward to with Arthur?
It changes from script to script – they always surprise me – one day he'll be doing something dramatic, emotional and heavy going - the next he'll be doing something light: banter with Malick or Chantelle. I love that we get new people in all the time with the guest artists – it's great to getting to work with so many people. I look forward to the surprise of seeing what they come with next.
Holby City Q&As
Read (or watch) all our interviews with the Holby cast and crew here...