Royal Doulton
Royal Doulton began its pedigree in tableware and ceramics, when in 1815 John Doulton used his life savings to launch a partnership with Martha Jones and John Watts at a stoneware factory in Lambeth, London.
The Doulton name first took precedence in the Victorian period, when they capitalised on the revolution of sanitation. Doulton established the world's first stoneware pipe factory and became Britain's top Victorian manufacture of sanitary ware in the process.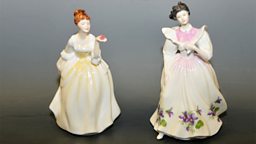 Building upon this success, John worked with his son Henry to extend the business and soon their portfolio extended to artistic pottery, initially in ornamental, tableware and commemorative products. By 1871, Henry had launched Doulton's Lambeth Studio that featured local designers and artists, including the Barlow family, Mark Marshall, and Eliza Simmance, who experimented with a variety of materials and glazes. Today, their pioneering wares command increasingly high prices.
In 1877, Henry purchased a major shareholding in the factory of Pinder, Bourne & Co in Stoke-on-Trent. It was here that the business introduced new techniques and produced bone china from 1884. With ideas and inspiration from the likes of John Slater and Charles J Noke, Doulton built its reputation in figures, vases, and decorative pieces.
Flog It! top tips
Look out for items by Charles Noke, who is regarded as creating Royal Doulton's most collectible designs. In particular, designs such 'Dickens' and 'Serial' ware are regarded as highly collectible.