BBC Radio Scotland Young Traditional Musician 2019
Terms and Conditions
1. The BBC's code of conduct for competitions applies to this competition. You can read more about it here: BBC Competitions Policy.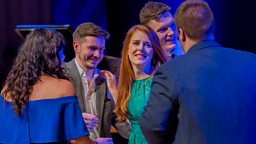 2. The organisers of this competition are the BBC and Hands Up For Trad.

3. The competition is not open to employees, agents or contractors of the BBC, Hands Up For Trad and/or any affiliate or subsidiary companies, or their immediate families or any other person connected or involved with the competition.

4. The competition is only open to individual musicians who fulfil all of the following requirements:
• Entrants must be aged between 16 and 27 as at Friday 6th July 2018; and
• Entrants must currently reside in Scotland and must have resided in Scotland for 5 or more consecutive years.

You must inform the BBC production team if you are a member of any professional/talent union or association, such as Equity, or are represented by an agent or talent organisation. This will not affect your application or participation in the competition.

Entrants under 18 years of age will need parental permission to enter.

5. To enter the competition, entrants must submit:

• a 10 minute recording of themselves playing traditional Scottish music
• a short written biography of their traditional music experience
• a list of songs/tunes submitted and any relevant details of their source/background
• a 1 min home video of themselves performing in domestic or concert setting.
6. Entries may be made online at https://bbc.lvis.io/bbctraditionalmusician/ (the competition is now closed)

7. The competition opens on Monday 4th June 2018. Entries received before this date will not be considered.

8. Closing time for entries is 5pm on Friday 6th July 2018. Submissions received after this time will not be considered. Entries will not be returned so please remember to keep a copy.

9. Entrants can only enter individually. Entries from bands will not be accepted. Only one entry per person is permitted. If you submit more than one entry, only the first entry received will be considered.

10. Entries must not contain any defamatory, offensive or any other unsuitable material. Entries must be suitable to be broadcast by the BBC to audiences of all ages.

11. Entrants retain all rights in their entries but grant to the BBC a non-exclusive licence to broadcast their entry across all media (including use in all medial now known or which may hereafter become known), including use on any online platforms.

12. Entrants warrant that they have obtained all rights necessary to grant the BBC the licence as set out in clause 11 above, and that their entry does not infringe the rights of any other party. The BBC accepts no liability if entrants ignore these rules and entrants agree to fully indemnify the BBC against any claims by any third party arising from any breach of these rules.

13. Entrants permit the BBC to edit or change entries in any way it may in its sole discretion consider necessary for the purposes of use in the competition and the uses set out in clause 12 above.

14. By entering the competition, entrants, or their parent or guardian if the entrant is under 18, warrant that they have legal capacity to enter the competition and agree to be bound by these Terms and Conditions.

15. A selection of entries may be broadcast or used on-line throughout the competition. A selection of entrants may also be interviewed by the BBC and these interviews may also be broadcast or used on-line. This will not be a part of, or have any influence on, the judging process.

16. Entries will be judged on the following criteria:

Technical ability displayed:
a. Intonation
b. Rhythm
c. Timing
d. Ornamentation

Performance skills:
a. Connection with the audience
b. Choice of repertoire
c. Balance of programme
d. Pace
e. Appropriate length of performance

17. Entries will be judged through the following process:

Round One
A panel of judges will review all entries and select a shortlist of 12 entrants to take part in the semi-finals, based on the criteria set out above.

Semi-finals
The 12 shortlisted entrants will be contacted by Monday 13th August 2018. If a shortlisted entrant cannot be contacted after reasonable attempts have been made to do so, the organisers reserve the right to offer the place in the semi-final to the next best entrant.

Semi-finals will take place across the weekend 12 - 14 October in Wiston, South Lanarkshire. The residential semi-final weekend will include workshops and advice on working in the traditional music business. The organisers will provide accommodation at Wiston Lodge for each semi-finalist as well as reasonable travel costs.

All semi-finalists will be asked to perform in a public concert where they will be judged by a panel. The panel of judges will select the 6 finalists based on the criteria set out above. Semi-finalists will be informed of the judges decision by Monday 9th October.

The Final
The 6 finalists will then be invited to perform at the final which will be held in Glasgow on Sunday 27th January 2019 as part of Celtic Connections Festival.

The organisers will provide accommodation and rail travel for each finalist (and one parent or guardian if the finalist is under 18).

The final will be broadcast live on BBC Radio Scotland and each finalist will be asked to perform in front of a panel of judges. The panel of judges will select one winner based on the criteria set out above.

18. The prize will consist of:

• A recording session with BBC Scotland in Glasgow (the winner will be asked to enter into a standard agreement with the BBC before the recording session takes place);
• An opportunity performance at the Scots Trad Music Awards;
• One year's membership of Musicians Union.
All finalists will receive one year's membership of the TMSA and the opportunity to take part in the annual TMSA Young Trad Tour (subject to any necessary contracts being entered into with the relevant parties).

19. The prize is as stated and cannot be deferred or transferred. There will be no cash alternatives.

20. The names of each entrant whose entry is broadcast or used on-line will be made public. Entrants must agree to take part in any post-competition publicity if required.

21. The organisers' decision is final and no correspondence will be entered into.

22. The organisers reserve the right to disqualify any entry which breaches any of these Terms and Conditions or to withhold or withdraw a prize if in its opinion entries do not reach the required standard.

23. The organisers reserve the right to amend these Terms and Conditions or cancel this competition at any stage, if deemed necessary in its opinion, and if circumstances arise outside its control. In this event, a notice will be posted on the BBC Radio Scotland website.

24. The BBC and Hand up for Trad, their sub-contractors, subsidiaries and/or agencies cannot accept any responsibility whatsoever for any technical failure or malfunction or any other problem with any server, Internet access, system, the post or otherwise which may result in any entry being lost or not properly registered or recorded. Proof of sending is not proof of receipt.

25. These Terms and Conditions are governed by the laws of Scotland.