Bake Off: What the reviewers think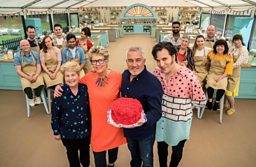 (Photo: Mark Bourdillon/Love Productions)
Emma says "It's an absolutely genius opening"
"Bake Off fans will know it always starts with a sketch with the hosts and there's a little sketch with Sandi and Noel playing the characters from Back to the Future.
"They go back to October 2018 to stop Prue from tweeting the winner, and she's there with her phone and Paul's saying 'what you doing Prue?'
"They are not scared of looking silly or dressing up and that's what I love about them. It's the second go on Channel 4, so last year it was all about 'is it going to survive this move? Is it going to be hugely different? How is everyone going to feel about it?' Turns out it's exactly the same as ever - business as usual.
"At the screening, everyone just felt 'ah lovely telly, the worlds a better place when Bake Off's on, that food looks delicious, I want to get into my kitchen!' It's just feel good vibes the whole way through.
"But there is a humongous change. From the beginning of Bake Off, week one has been Cake Week. It's now Biscuit Week! It's allowed them to do this really cool show stopper challenge - the first of the series - make a selfie out of biscuits. Ridiculous talents these people have, and they really do look like the people baking them.
"Also I think previously the technicals were getting a little bit too fancy, you'd be watching a challenge unfold but you wouldn't really know what the finished product was supposed to look like because you'd never heard of the thing they were supposed to be baking - some French fancy or something - whereas now it's a very nostalgic inspired choice.
"My favourite contestant is Rahul, he's a research nuclear scientist with sort of verbal diarrhoea and he doesn't know when to stop talking. He's so sweet and I love him!"
WARNING: Third party content may contain ads
Lorna says "They're not afraid to make fun of themselves"
"The yolk's very much on Prue, and I have a feeling it's going to be that way for the series. Generally not much has really changed and that's the great comfort because sometimes we do want the familiar, it's like having a great big bowl of Bakewell tart and custard.
"I like that in Biscuit Week that we do have regional biscuits, so for the aficionados out there, they'll be able to have a little bit of a critique. But for me who's just sitting there watching it and letting it all wash over, it's great to see how many different varieties we actually get from biscuits
"The beauty of it is that it's very relatable; you can feel inspired to think 'right, I'm going have a go at that' and that's one of the beauties of Bake Off.
"Overall it's also that they treat the contestants so well, they don't patronise them, they don't condescend to them, they don't make them look a certain way for telly.
"Contestant-wise Anthony is really great, he calls himself the Bollywood baker, he's very humorous and I think he could be this year's Selasi."
The Great British Bake Off starts on Tuesday 28th August at 8pm on Channel 4.
TV club is on 5 Live's Afternoon Edition every Monday from 15:00.
Watch the Great British Bake Off review in full
TV Club reviews the new series from the creator of Line of Duty.

TV Club reviews the new series from the creator of The Simpsons.

If you're making a film about space - better ask these guys for some technical advice first...