Producer's Blog
'At times it was hugely exasperating'
A few weeks into filming and my home phone rang at midnight – it was one of the barristers ringing to discuss what work he had coming up. This became a common theme during my fifteen months filming – the barristers keep odd hours – you'll hear from them and only be able to track them down on the phone either before eight in the morning or after nine at night.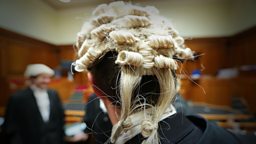 The reality was the filming of 'Barristers' was probably the easiest part of producing this five-part documentary series for BBC Northern Ireland.
It took nearly three years to make
And that's not to suggest that it wasn't incredibly challenging – there were a multitude of issues – practical and legal. No, the hardest bit was convincing dozens of our top legal professionals to allow me free and unprecedented access to their working lives. For a profession that has never allowed filming in its 90-year history the barristers were forced to take a major leap into the unknown.
For this documentary series to work the viewer needed to get beyond the wigs and gowns and see what barristers actually do in their day-to-day lives, so they had to accept that I needed access to areas that people had never seen before. And we needed not just the agreement of the barristers, but the support and co-operation of the solicitors they worked with and the clients they represented. A bold few took the plunge. And on top of that we needed permission from the Northern Ireland Court Service and the Lord Chief Justice to film in the courthouses. A huge ask as cameras are banned in courts in Northern Ireland and it required them to take a risk – something all lawyers instinctively avoid.
On top of this there were several legal issues to consider: from protecting the identities of children in family disputes and dealing with vulnerable clients, to ensuring all the cases we followed were fairly and accurately represented.
Making 'Barristers' was far from straightforward. From the beginning when I was trying to secure access to finally delivering the series to BBC Northern Ireland took nearly three years.
Frequently many barristers work alone and only sometimes do they collaborate with colleagues – so for them to be shadowed by a small documentary crew was very unusual and it took a while before they felt comfortable. One barrister even likened the experience of being filmed to visiting the dentist – but it was rarely as bad as he imagined! The key to being a good documentary maker is to become part of the furniture – to almost become invisible. It is only then that the barristers relaxed and the camera captured the real person, showing them exactly as they are should you meet them in real life.
I've always been fascinated by 'hidden worlds', particularly those ones that have a major impact on our lives. Whether it's how food in Northern Ireland is grown or the types of legal problems that lawyers deal with. As a filmmaker I believe the audience have a right to know how these worlds operate, I also want to surprise the audience, giving them a genuine and factual insight and perhaps challenge their preconceptions and attitudes.
The legal profession frequently comes face to face with some of the worst scenarios in society - whether it's families breaking up, jobs going wrong or violence – they could be forgiven for becoming cynical or suspicious. Despite this I think I gained their acceptance and to some degree a level of trust but I suspect they frequently asked themselves "what have I let myself in for". I hope they and their colleagues in the wider legal profession feel the 'Barristers' series is a fair and accurate representation of what happens in their world, but most importantly I know the viewer will see inside a hidden world and have a better understanding of how our complex legal system operates.
Finishing 'Barristers' series left me with mixed feelings. I am used to long and unsociable hours whether it's filming with farmers or the police – I didn't expect such hours on the 'Barristers' project. At times it was hugely exasperating – the barristers were so single-minded about their jobs they forgot the documentary. But it was also a privilege and very rewarding to film with people who genuinely believe in their profession and its place in our society.