Q&A with Jing Lusi (Tara Lo)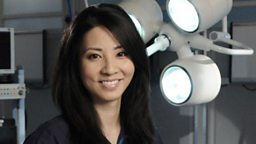 We caught up with the actress who plays Tara Lo in Holby City as she filmed her final scenes.
So you're filming Tara's last episode this week - how do you feel?
It feels really weird. I literally just shot my last scene on Darwin and it didn't hit me till after I'd left the set and one of the SAs (supporting artists) came over and said "Are you done now?" and I said "Yeah, I guess so," that it hit me. There's just so much going on that I'm numb. As Tara I'm feeling a host of emotions, but me: numb!
What was it like filming those final moments?
Surreal, I couldn't stop crying. It wasn't really to do with me, I guess it was partly to do with Tara, but it was just the moment where I'm lying there, staring at the ceiling and I thought: for some people this is real, this is the last thing they see, this is the last moment for them and that was it – I welled up! I was clenching my jaw to make it through the scene, but that snapshot of someone's last moment – that really got to me.
What are you going to miss the most?
SO many things, the people – the Holby family. I know everyone goes on about it, but there really is something special here, everyone is respectful and friendly. I'm going to miss hanging out on the 5th Floor (production office) between takes and having a chat. I guess I'll also miss playing a doctor – it's such a surreal thing to do – and it's going to be strange not going into theatre, not meeting new guests every week!
Has anyone ever played a prank on you?
I tend to eat a lot of fruit on set and so I'm quite often asking people if they've seen my apple/banana etc. One time I was looking for my avocado and someone had used a strip of gaffer tape to tape it to a desk. I came back later and it was buried under tape!
You eat avocados on their own?
Yes! All the time – I love them.
What was filming the wedding like?
Cold. Freezing – we filmed it in December – in the wide shots I'm wearing a summer dress, but in the close ups I've got two pairs of thermals on, warm boots – the works. It was kind of a funny, life imitating art moment, because Ollie and Tara decided to get married last minute and we decided to film the wedding last minute.
What do you think Tara's legacy will be?
I love how she was so enthusiastic and always trying to further herself. She took a very personable approach to all her patients and possibly got involved more than she should, but always took that extra step – her ambition, she never settled for second best, she did push herself too far, but she had to.
Who are you going to miss the most?
Rosie [Rosie Marcel, Jac Naylor] – I've learned so much from her – she's just professional down to a T and she's got a wonderful, freaky sense of humour that I love. It's funny – it's another life imitating art moment – Jac is Tara's mentor and Rosie has been mine.
What do you think will happen next for Ollie?
I hope he has a breakdown and can't even look another woman in the eye ever again... and he joins a monastery and takes a vow of celibacy!
Holby City Q&As
Read (or watch) all our interviews with the Holby cast and crew here...
We caught up with Marc Elliott to find out what's in store for Holby's latest arrival, Issac.

Rob Ostlere and the Holby production team look back at the much-loved character's exit.

Jemma Redgrave, Oliver Kent and Simon Harper on introducing Holby City's newest recruit.