Commonwealth Games 2014
Live from Pacific Quay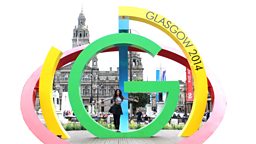 Noreen live from Pacific Quay
Look back at BBC Asian Network's coverage of Commonwealth Games 2014 live from Glasgow. Check out Interviews & Gallery
Desi Guide to Glasgow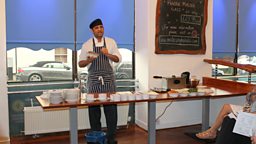 Day 1: Haggis Pakora Masterclass
Noreen samples some Indian cuisine with a Scottish twist and watches a Haggis Pakora masterclass at Mr Singh's India. Find out more about Desi Glasgow. Desi Guides to Glasgow
Commonwealth Games Gallery
Week 1: 21st - 25th July
Monday 21st: G Town Desi welcomes the show to Glasgow for the Commonwealth Games with their Scottish bagpipes. Noreen finds out more about the host city in the first of her Desi Guides.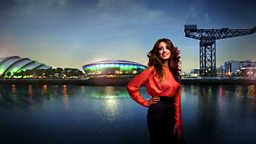 Tuesday, 22nd: Noreen looks back at the highlights of the Delhi Commonwealth Games. Paul Hawkins gives his top athletes to watch in Sport Hot 5 and the South Asian Hockey captains join Noreen.
Wednesday, 23rd: Noreen de-mystifies Glaswegian lingo, Paul Hawkins brings us the action from Day 1 of the Games and Bombay Talkie host Khandaan's Got Talent.
Thursday, 24th: Its Noreen's Sports Day. Listen out to hear how she fares in some of the Commonwealth Games' sports.
Friday, 25th: Noreen hosts a Ramadan special. She will be joined by a hockey player who has converted to Islam, a lawn bowls player from Pakistan and a Nasheed Group.
Week 2: 28th - July to 1st August
Monday 28th: Noreen hosts a special Eid Party from Scotland. Plenty of guests from Glasgow's Asian community will join in the celebrations.
Scotland has previously hosted the Commonwealth Games twice, in 1970 and 1986, both in Edinburgh
Tuesday, 29th: Noreen goes behind the scenes of BBC at the Quay to speak to the artists performing for the Asian Network. She also joins in with the cooking and beatboxing masterclasses.
Wednesday, 30th: Natasha Ahmed from Fabulousity Boutique, Miss India Scotland Rameet Kaur Sandhu and Kickboxer Sameera Ashraf make up Noreen's special Fabulous Women panel.
Thursday, 31st: School children take over Noreen's show and introduce some of their favourite music.
Friday, 1st: Noreen looks back at the sporting highlights of the Commonwealth Games and re-lives some of her favourite moments from Glasgow 2014.