Jazz Award
The BBC Young Musician Jazz Award will return in 2018
More information to follow soon.
2016 winner: Alexandra Ridout (trumpet)
Following an extensive audition process, the final of the BBC Young Musician Jazz Award took place on Saturday 12 March at the Royal Welsh College of Music and Drama, Cardiff. The five finalists included two pianists, one trumpeter, one saxophonist and one musician on saxophone and recorder, aged between 15 and 21 years old. They performed alongside the Gwilym Simcock Trio and were judged by Tim Garland, Gwyneth Herbert, Zoe Rahman, Byron Wallen and the Chair of the Jury, Julian Joseph.
Commenting on her win, Alexandra said: "The whole thing has been an amazing opportunity! I can't believe I even got this far. I wasn't expecting to win but now that I have, it's incredible, and playing with the trio was the best bit, they are just so good!"
Alexandra has been playing the trumpet since she was nine. She joined many bands at her local music centre and, at the age of 14, gained a place at the Junior Department of The Royal Academy of Music. A year later she also gained a place on the Junior Jazz course at The Royal Academy of Music. Alex has successfully auditioned for the National Youth Jazz Collective Summer School for the last four years and last summer was one of two UK 16-19 year-olds chosen to attend the Brubeck Institute Summer Jazz Colony in Stockton, California. Alex now attends The Purcell School for her sixth form studies.
Julian Joseph said: "We were enchanted by Alexandra's presence as a musician, her sound, but I think most importantly there was a relationship with the blues and swinging that sounds important in her playing. We all heard that, and we all felt that, and it really tipped the decision in her favour."
Gwilym Simcock said: "I'm so pleased for Alexandra. She played wonderfully tonight and communicated in a really heartfelt, genuine and unaffected way. It was very honest music-making and I think that's what she communicated to the judges. Myself, James and Yuri have had a great time over the last few days working with her, she's such a pleasure to work with and she's very self-effacing. I'm so pleased for her that she's won this special achievement on what was a very competitive evening, not in spirit, but in terms of the quality of the music-making from all of the five finalists. So I am absolutely thrilled for her and I hope this is the start of big things for her."
The BBC Young Musician Jazz Award Finalists were: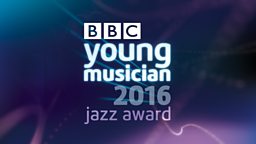 Alexandra Ridout (trumpet)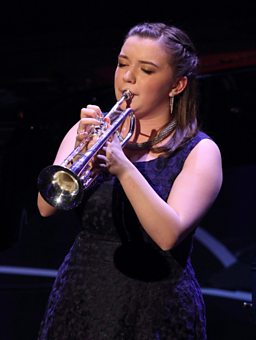 Alexandra Ridout (trumpet)
2014 Winner's Story
As a student at Chetham's School of Music in Manchester, Alexander Bone watched his classical musician friends and schoolmates enter BBC Young Musician over the years. In 2014 his chance came and he didn't think twice: "when I heard there was a new jazz competition I thought it was an opportunity not to be missed!" It's a decision he doesn't regret. "The experience for me of working towards the different rounds, meeting the judges, playing with the Gwilym Simcock Trio and hanging out with the other contestants, that was what made the competition so special for me. We all got on really well and I often see all the other finalists. I think that helped us all relax and focus on our music instead of there being any awkwardness and tension between us."
The relaxed and supportive atmosphere at the Final helped Alexander to impress a panel of judges which included Django Bates, Trish Clowes, Julian Joseph and Jason Yarde. "I was happy with my set, I felt like what I'd played showed my style and my influences. Afterwards I allowed myself to relax and enjoy the second half, but waiting for the winner to be announced was a nervy moment! I was in complete shock! I still can't believe it when I think back!"
Since the 2014 Final, Alexander has continued to pursue jazz and electronic music, playing, producing and arranging. A highlight was working in the studio with Nile Rodgers and Rudemintal, and he's played at jazz festivals and other incredible venues including the Royal Albert Hall. Alexander was invited to play at this year's Last Night of the Proms concert in Swansea with the BBC National Orchestra of Wales. He has just moved to London to continue his jazz studies at The Royal Academy of Music.
For Alexander, the BBC Young Musician Jazz Award is a challenging but rewarding process: "I spent a lot of time practising and composing / arranging for the different rounds. I gave it my best shot as I knew that then if I didn't get through, I'd be satisfied that I'd tried my best. Working with musicians as incredible as those in the Gwilym Simcock Trio was one of the best things I took from the competition. They really bring out the best in you. Go for it, you've got nothing to lose!"
Alexander Bone (saxophone)