Rogue Traders - Inter Defence Security Ltd
Salesmen are a crucial part of our commercial world, helping us discover new products, find exciting features and make decisions about what to buy. But there are still some salesmen out there that just don't get it. Rather than accurately describe what they are selling and then tell you the price, they're determined to tell you lies and go for gold.
Published 23 October 2013: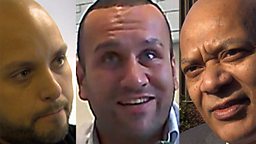 (Photo: top Mr Rastegar, left Mr Rigby and right Mr Gunasekera)

When the market companies are selling to include some of the more vulnerable members of society, it seems the temptation for some salesmen to misbehave can be overwhelming.
Take Manchester based Group 1 Security, trading name of G1S Solutions Limited - not to be confused with other companies of a similar name. It was run by Jon Rigby and Ana Gunasekera. They sold monitored alarm systems. A monitored system means that when the alarm is activated it connects to a receiving centre who contact the emergency services if required. The company used cold calling to find their customers and that's how last September their salesmen wound up in the home of best friends Phyllis aged 91 and Rita aged 101.
We met Phyllis' granddaughter Lysel Linnane. She was concerned to hear that salesmen had visited them from Group 1 Security because Phyllis already had a fully functioning alarm system.
'They told her the company had gone out of business and therefore her alarm system was in effect useless.'
Despite both of these claims being lies the salesmen convinced Phyllis to shell out £3250 for a new alarm, which was then installed right next to the perfectly good still functioning old one. Lysel has tried and failed to get any of her grandmother's money back.
Group 1 Security has since stopped trading but the same directors Jon Rigby, Ana Gunasekera and a third man who used to work at Group 1 Security, Nima Rastegar - set up another company also selling monitored alarm systems. That company is called Inter Defence Security Limited also based in Manchester. Could this be a chance to start again, with a clean sheet and a new improved ethical stance on selling? We sent Rogue Traders team member Becky undercover at the Inter Defence Security Limited call centre to find out.
It's immediately clear what the Inter Defence tactic is – pretend that wherever the customer lives is an absolute hotbed of crime. Becky was told to call herself a 'Crime Awareness Advisor' and tell customers that crime levels are rising. But what she was told to say was not necessarily true because they're trained to say these types of things on every call, no matter where the person they are speaking to lives. And it got worse. Becky was shown the ropes by salesman Dave.
He told her: 'It's gonna sound really horrible this right, but the best thing to do to make leads is to scare the old people.'
We wanted to find out if the salesmen were using similar scare tactics when they went face to face with the customer in their homes. We rigged not one, but two houses and used two of our elderly actors as the homeowners. We had security expert Terry Hack on hand to give us his opinion.
Salesmen Doug and David arrived to sell us an alarm system.
During their visit they lied and used scare mongering sales tactics. Amongst other things, David told us that local crime rates are monitored on the government website www.police.uk, but that the police are 'cooking the books'.
They also told us that the alarm systems had been awarded a gold certificate and are accredited by the National Security Inspectorate – neither of which were true.
Back at the call centre undercover team member Becky's 'colleagues' at Inter Defence Security Ltd told her that they lied to customers and make statistics up. When she met the boss of Inter Defence Security Limited, Nima Rastegar, he told her that he's only in it for the money, not for the love.
But the Rogue Traders team are concerned and gathered together a crack team of OAPs and paid the Inter Defence Call Centre a visit to remind them that OAPs won't be pushed around. However the staff didn't seem too keen to come out and chat and instead stayed hidden in the office.
Company Responses
MR NIMA RASTEGAR SAYS: 
I would like to make it clear that the case you featured was from G1S Solutions Ltd (Group 1 Security). I was not involved in any way in running this company. G1S Solutions Ltd was owned, operated and managed by a Mr Rigby and a Mr Gunasekera.
I would like to stress that in my time running Inter Defence Security Ltd as a nominee director I implemented strong policies covering customer service, sales and marketing. All of our staff was trained to the highest possible standards. Both Doug and David [the salesmen we filmed] uphold the highest level of professionalism. It has been a pleasure working with them.
I made it policy that letters must be sent to homeowners prior to any calls explaining who we were and that we may be calling. Business practices used prior to this were solely the responsibility of Mr Rigby and Mr Gunasekera.
I would like to note that prior to the knowledge of your report I resigned from my position as Nominee Director of Inter Defence Security Ltd due to differences between both Mr Rigby, Mr Gunasekera and myself in the direction of where the company was going.
During the period I was running Inter Defence Security Ltd we had appointments with thousands of people. As a young company it was inevitable that on rare occasions mistakes would be made. We always did everything in our power to prevent this and ensure any complaints were dealt with in a prompt and efficient manner. All of our existing clients have had the highest level of service and we have provided a peace of mind for these homeowners and will continue to do so.
Finally I would like to say that I am an avid viewer of your programme and think most of what you do is fantastic for the public interest. I do however on this occasion think that most of the negative press and stories were rooted from Group 1 Security and overlapped to Inter Defence Security Ltd.
MR JON RIGBY AND MR ANA GUNASEKERA SAY: 
G1S was a company run by myself and Gunasekera. We had many satisfied customers that were more than happy with the service provided. Any issues any of our customers experienced were dealt with as promptly and efficiently as possible. When we ceased trading some of our many customers were taken over to the new company, IDS (Inter Defence Security) which at the time was run by myself,
Myself and Gunasekera's involvement was short lived as Rastegar had new ideas and plans going forward that myself and Gunasekera disagreed with and from that point myself and Gunasekera resigned as directors giving Rastegar sole control of the company. He was solely responsible for the day to day running of the company. He recruited and trained all staff in the marketing department and on the sales field. He drafted sales and marketing manuals for all staff to follow.
So just to clarify; myself and Gunasekera had no involvement what so ever with the day to day running of Inter Defence Security.
You refer to a situation of sales representatives namely David Scutt and Doug Smith being secretly filmed during a presentation, which had been set up by yourselves. They did this under the guidance and training of Rastegar.
Also you refer to undercover filming at the call centre in Timperley, where you sent in a member of your production team to pose undercover as a staff member. You mention various people who were recruited by Rastegar. And again to clarify myself and Gunasekera had no involvement.
Elsewhere on BBC Watchdog
Find more reports on rogue traders that the team have been investigating for giving customers a raw deal.