Abdelazer – Rondeau by Henry Purcell
Composed in 1695, Henry Purcell's Abdelazer suite takes us back to the theatres and masques (presentations of poetry, dance and music) of the late 17th Century. Henry Purcell wrote lots of incidental music for the theatre. In some ways it was used as film music is used today – to set different moods and transport us between different parts of the story.
Purcell's music influenced one of our other Ten Pieces composers, Benjamin Britten. He used this Rondeau as the basis for The Young Person's Guide to the Orchestra – another great piece for children to explore.
Listen out for: The structure of the piece. Purcell was using a pattern – or plot – called a French rondeau to create his piece. The structure is: AABACA. A is the main melody, B is the strain, C is the second strain, and then it goes back to the beginning!

Watch the introduction film at the top of the page then starting exploring the music:
Watch the full performance
About the composer
HENRY PURCELL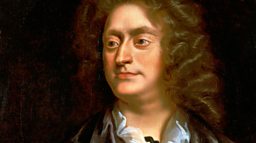 BORN: 1659 / DIED: 1695 / NATIONALITY: British
England's greatest composer until the 20th Century, Henry Purcell was an organist and composer who is still much admired for his English songs. He was from a musical family who lived very close to Westminster Abbey and as a youngster was made a chorister and then assistant to the organist and 'Keeper of the King's Instruments'. During this time, he learnt his craft composing mostly vocal music whenever the opportunity came his way. Later, he split his time between writing sacred music for the Abbey, royal commissions and music for the theatre. Today, over 300 songs of his survive. Purcell died aged just 35 or 36. It seems that he was late home from the theatre and his wife locked him out. He caught a chill after spending the night outside and died shortly after from it. He is buried in Westminster Abbey and was mourned as a 'very great master of music'.