Washington Scablands climbing
By Mags Lightbody, assistant producer and director Ice Age Giants
Episode 3 Last of the giants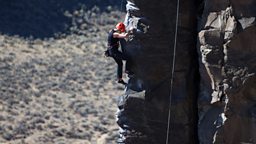 It is difficult to describe how breathtaking the Washington Scablands are. Even with our cameras and aerial footage it's hard to do justice to the magnificent scenery and the epic glacial flood that formed them. It is an amazing geological landscape - which goes on for hundreds of miles. We wanted our presenter Alice Roberts to have a genuine reaction to this scenery and to literally get a feel for the place. So we asked her to climb it!
I'd been liaising with geologist Nick Zentner, who waxed lyrical about Frenchman Coulee. Its walls were formed of basalt columns wrenched out by the floodwater of glacial Lake Missoula 15, 000 years ago. We found what we thought looked like a great climb in the coulee entitled – 'Ride 'em Cowboy'.
Luckily Alice is a keen amateur climber. The BBC Safety team gave us the OK to proceed and Alice had a few practice sessions in the UK with a friend before heading to east Washington State.
On arrival Alice didn't seem apprehensive until she looked up. The climb was about 75m (246ft) vertical, with few obvious footholds. But our rigging crew assured us that all would be well. We had a safety rep on location and two climbers belaying at the bottom and top. Climbing cameraman Jim Surette would also be filming her close up as she went.
Our main cameraman Mark MacEwen and I found ourselves a good spot about 50m (164ft) away. Here we could view the stunning background as well as her climb. But we quickly realised we were pushing Alice to her climbing limits. She struggled with various overhangs and got tired. This meant she didn't have a chance to really look around her, which paid off for the programme.
As she clambered over the top of the column onto firm ground, she looked around and was genuinely astonished. She gave a perfectly delivered piece to camera. We hope we did justice to the remarkable landscape of the Washington Scablands and the epic story of its formation.
More from the field in Ice Age Giants