Harvest through the year
TV researcher Hannah Ward looks back over a year of filming on Tom Bradshaw's Essex farm.
I remember vividly my first visit to Tom Bradshaw's farm in Essex. It was October 2012, and I was going to film him planting his wheat. But before I even got there Tom and I were back and forth on the phone, rearranging our schedule. As the weather changed, so did his plans for planting. The camera and car hire companies were up in arms at me. My friends kept asking if I was going to be able to make dinner that night. It felt like my life was on hold while the weather decided what day Tom was going to drill his wheat, and what day I was going to film it.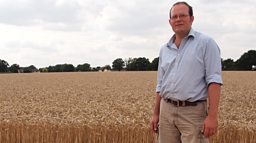 It made me feel stressed, anxious and frustrated. Then I realised this is something that Tom deals with every day. His life, livelihood and the success of his business, depends so much on the vagaries of our British weather. From that moment on I had a completely new found respect for Tom and farmers generally.
Tom farms over 4,000 acres of arable crops on the Essex/Suffolk border. He grows wheat, barley, oilseed rape, peas and beans. But what interested us when first meeting Tom last summer, was his passion for the soil as a living organism, more than just as a growing substance.
One of the first things he said to us was 'You wouldn't drive over a cow's head, so why would you drive over your soil?' He is different to many arable farmers because of this passion, and the fact it's has taken him all over the world, looking at how we can best manage our soil here in the UK.
Watching the weather
Since last summer, I've been part of his wonderful rollercoaster ride to reach Harvest. I found myself apprehensively watching the weather, not for myself, but for Tom and his poor wheat! It felt that every time I filmed with Tom and asked him what weather he was hoping for in order to grow a successful crop, what happened next was exactly what he didn't want. In June for example, all he wanted was plenty of sun in the day and plenty of rain at night. And what happened? The longest heatwave this century!
It's seemed like much longer than a year filming with Tom. At 5am on a pitch black, freezing October morning drilling his wheat. In the cold, snow covered fields with Tom reluctantly ploughing the land, desperately trying to break up the waterlogged soil. On beautiful crisp days in March when he was worrying because there was no crop in sight and it should have been 4 inches tall by then, and the ground was 8 degrees colder than it should have been at that time. Even through the hottest day of the year trying not to get sun burnt in the middle of wheat field. Every time I went back to see Tom, he was ploughing on, ever optimistic. That's what I admired most about working with him. The weather may be one of the most frustrating things but when something is so out of your control, there's little you can do but keep going.
It was bizarre to think that Tom and his farm have no control over something that has such a big impact in their daily lives. Some growers use glass or polytunnels to cover their crops, but Tom's wheat is left wide open to the elements.
More than just farming
What amazed me was seeing that Tom's not only a farmer, but also a scientist, mathematician, businessman, chemist, stockbroker and driver. His job involves endless details. Logistics are frantic during harvest when Tom has multiple combines and up to four tractor and trailer loads to coordinate across the different sites he farms, each carrying nearly 20 tonnes of grain. His phone is constantly ringing. It's a huge partaking that you don't realise when you drive past a combine harvester in a wheat field.
Filming alone in massive empty fields can sometimes be lonely, but with Tom I never felt abandoned. I was always welcomed by three excitable dogs and a cup of tea. Spending so much time on Tom's farm gave me a rare insight into the beautiful landscape and wildlife that lives in it. Watching deer stalking across snow covered fields, the birds that follow the ploughs on a fresh misty morning, and the ever-changing countryside throughout the year through flowering to the golden wheat I've been watching grow for the past year.