About Cardiff Singer
BBC Cardiff Singer of the World is a competition known throughout the classical music world as the premier showcase for opera and concert singers at the outset of their careers. It has launched the careers of some major stars including Bryn Terfel, Karita Mattila, Dmitri Hvorostovsky, Anja Harteros and Jamie Barton.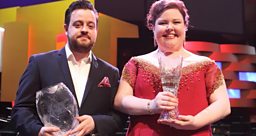 BBC Cardiff Singer of the World takes place every two years. In 2015, the competition will run from Sunday 14 June – 21 June.
History of the competition
Established in 1983, BBC Wales created BBC Cardiff Singer of the World and continues to develop the format of the competition and its broadcast coverage. It is organised in association with Welsh National Opera and is supported by The City of Cardiff Council.
This year, more than 300 talented young singers from 55 countries applied to come to the capital of Wales to represent their country. The 20 finalists, announced in the spring will then perform in front of a jury of distinguished opera experts and equally discerning experts.
Singers compete for three prizes; the title of BBC Cardiff Singer of the World, the BBC Cardiff Singer of the World Song Prize and The Dame Joan Sutherland Audience Prize.
Find out more about getting the 2015 competition ready.
Find out more about the selection process.
Find out more about competition and friends.
2013 Winners
The winner of BBC Cardiff Singer of the World 2013 was mezzo-soprano Jamie Barton from the USA, who also won the Song Prize. The Dame Joan Sutherland Audience Prize was won by English tenor Ben Johnson.
Our Patron
Dame Kiri Te Kanawa has been Patron of the competition since 2011. She brings to the competition her immense experience and talent as a world class opera singer as well as her particular passion for developing talented young singers. As Patron, she is key to mentoring the singers throughout the competition. In her words: "My own aim is to support and nurture these singers who have made it through to Cardiff, sharing my own experiences, giving advice, but being very honest doing so."
Our Orchestras
Performances are accompanied by two world class orchestras; BBC National Orchestra of Wales, conducted this year by Principal Conductor Thomas Søndergård and the Orchestra of Welsh National Opera, conducted by Martyn Brabbins.
Our Broadcast
BBC Cardiff Singer of the World is broadcast across TV, radio and online throughout the week. As part of the wider BBC Music and BBC Year of Song and Dance, audiences can engage with the competition in a number of ways. Throughout the week you can see and hear us on BBC FOUR and Radio 3. Additionally, if you live in Wales: BBC Two Wales, S4C, BBC Radio Wales and BBC Radio Cymru, as well as BBC FOUR and BBC Radio 3.
Of course, you can also follow the competition via the website, iPlayer and on social media via Facebook and Twitter.