Embroidered Lampshade Workshop
Marna Lunt
Marna studied fine art at Manchester and is mostly known for her intricate lampshades inspired by scenes from all over the world.
Marna uses multiple layers of fabric and incredibly detailed stitching to create scenes of land and city scapes – each one takes around 80 hours to make.
She grew up in Lealholm in North Yorkshire which is the location of our workshop and her work is heavily inspired by the landscape of the moors. She runs regular workshops where she teaches lampshade making to crafters both experienced and new.
Students
Jane Cuthbert is 55 and lives in the beautiful seaside town of Saltburn in North Yorkshire. She's an accomplished crafter and musician and runs creative workshops for people with dementia . When she's not doing that she's one half of street performance act Jean and Morag (the other half is Terry who is also part of the Yorkshire workshop) Together they dress up as a pair of tea ladies who provide tea, biscuits and good advice to any one passing their teashop tricycle, dressed up in the costumes that Jane makes herself. Jane loves to walk her dog on Saltburn beach and her lampshade is inspired by the colourful banded cliffs she sees every day.
Terry Wilkinson is 57 and is a retired touring theatre director and performer. He's a complete craft beginner and has never done any sewing before at all. He still performs with his best friend Jane (also from the Yorkshire workshop) as a crazy pair of tea ladies serving tea and biscuits to the good people of Yorkshire. When he's not doing that he's playing the trombone and works in a local animal shelter as a 'cat cuddler'. Terry's lamp is based on the impressive Saltburn pier.
Masimba Musodza is originally from Zimbabwe but now lives in Middlesborough and thinks Yorkshire is the best place in England. He's a playwright and actor but not a crafter. Despite his mum being an accomplished seamstress and maker of traditional Zimbabwean embroidery, Masimba is a complete novice but is keen to rediscover the joy of making things with his hands. Masimba's lamp is based on his love for the sea. Zimbabwe is a landlocked country and the first time he saw the sea in Yorkshire remains one of his favourite memories.
Tony and Annette Clarke
Tony and Annette have been married for 37 years. They live in Lealholm, just a few minutes walk from the workshop itself. They moved there 6 years ago and love going out for walks in the local countryside. Tony is an ex policeman and now the couple are retired they've been looking to travel the world and expand their horizons. So far this has included a zip wire adventure in the jungle and Tony trying in vain to get Annette to ride a motorbike. They'd never thought of doing anything like embroidery before but love the idea of trying new things. Tony's lampshade is based on a local scene just outside Lealholm village and Annette is inspired by her love of sheep – a daily sight on the hills around their home.
Trine Wade is originally from a remote town in Northern Norway but moved to England 22 years ago to settle down and have two children. She's a keen crafter and sewer and now the kids are growing up she's taken up craft as a serious hobby and is planning a degree in Art. When she's not crafting she's out keeping fit by roller skiing –like cross country skiing – but without the snow! Trine's lamp is based on the amazing Northern lights which were a regular part of life in Norway.
At just 23 Catherine Sawdon is by far the youngest of our crafters but thanks to a childhood spent drawing and sewing she is one of the most accomplished sewers in the group. She is currently studying for a degree in Textile surface design at Hartlepool and hopes to continue working as a textile artist once she graduates. Catherine has always lived in the North East of England and spent much of her childhood with her grandparents in the seaside town of Whitby which is the inspiration behind her lampshade.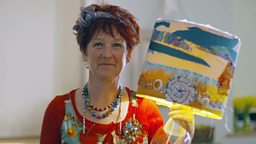 Student Jane and her lampshade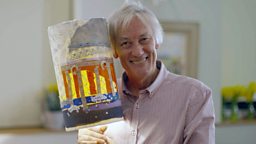 Student Terry with his lampshade.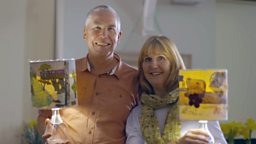 Students Tony and Annette with their lampshades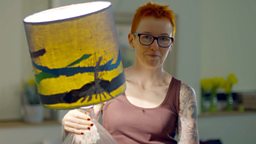 Student Trine with her lampshade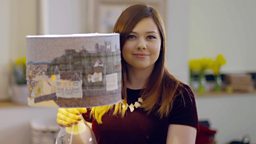 Student Catherine with her lampshade.