We embarked on a different type of event for Connected Studio, just one of the many challenges we'll be tackling in the second phase of the programme as announced by Adrian Woolard at the BBC Online Briefing on 24 May 2013.
This new event is investigating the nature of digital storytelling. We're excited to be working closely with BBC Comedy and their forthcoming series Inside No.9. As those familiar with Connected Studio will know, our mission is to bring together the editorial and technical sides of the BBC to develop exciting and innovative ideas. In the first phase of the programme we focused on the 10 products that make up BBC Online. In the second phase we'll be expanding into new areas like this one. We've made quite a few changes to our creative process for this event, so please carefully read the information below.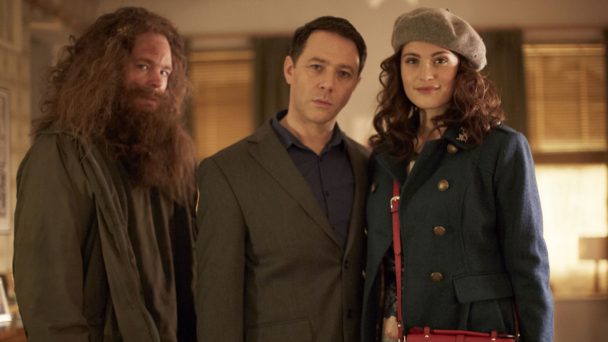 Picture shows: (L-R) Migg [STEVE PEMBERTON], Tom [REECE SHEARSMITH], Gerri [GEMMA ARTERTON]
We're exploring how new technologies can impact on how a story is told and received – the interplay between storyteller and audience. As new technologies have emerged, the craft of storytelling has evolved, absorbing those technologies to maximise and enhance the audience experience. Digital technology offers the chance to develop techniques for both storyteller and "story-experiencer". In exploring those possibilities we hope to find new ways to surprise and delight our audiences.
Stage one: Briefing
There was a briefing session in central London on 2 July 2013. Attending were companies with a proven track record of delivering innovative digital experiences who could attend a Development studio in mid-July and, if commissioned, deliver the pilot by the end of August. This event was not open to BBC Staff – find out why in the FAQs below
Those applying to attend the Briefing were asked to submit examples of previous work which they considered relevant. Unlike previous Connected Studio events places were not offered on a first-come, first-served basis, instead we will invited companies that demonstrated suitability and capability through their examples of previous work.
Stage 2: Development Studio
Based on further assessment of suitability and capability a number of teams from the Briefing were invited to attend the Development Studio.
This event took place over two days, 17-18 July 2013, and was structured as a mix of approaches taken in previous Creative and Build Studios with the addition of new exercises and challenges. As with previous events, teams finished by pitching to a panel of judges, who will select a winner or winners to progress to producing a pilot. All participants at the Development Studio are remunerated.
Stage 3: Pilot production
The team selected to progress from the Development Studio will create their pilot over the late summer. There will be clear limits to the scope of work for this stage and a hard deadline for production. as this pilot will become a special digital storytelling experience that is part of the series - an extra 'No.9' that will go live later in 2013.
FAQs
Q. What opportunities are there for BBC staff to get involved?
A. Digital Storytelling is a new area for Connected Studio. The BBC has produced this type of output before, but it's not something we're currently set up to do at great scale.
This means that our first Connected Studio event of this kind will focus on engaging with the digital storytelling community outside the BBC, bringing together our production teams with the external agencies who are set up to quickly build and deliver digital storytelling experiences.
Once we understand more about the way the BBC can engage with this area of development, we'll be able to increase the opportunities for internal staff from across the BBC to participate in these events. We'll provide training and immersion sessions to help staff engage with these future events. Sign up to our mailing list to keep up to date with the programme.
For BBC staff wanting to be involved in the pilot event, we have mentoring roles available. Please use the Contact us page for more information.
Q. Are you looking for new programme ideas?
A. No. We are working with BBC Comedy Productions to develop the 7th episode of the forthcoming series 'Inside No.9'. This event is specifically to produce a new digital storytelling experience that complements the series.
Q. Can I attend as an individual?
A. No. Due to the constraints of this event we are looking for companies that have experience in delivering similar content and will not be able to help individuals to join or form teams. However this does not mean you are excluded from the event – our advice is to contact other individuals or companies that will be interested and form a team before making your application.
Q. What happens if we are invited to the Briefing but cannot attend on the day?
A. While we encourage all teams to be represented at the Briefing, for those unable to attend there will be a briefing pack made available on the day of the briefing which we can send to you upon request. Please do not apply for the Briefing event if you cannot attend the Development Studio on July 17/18.