Sport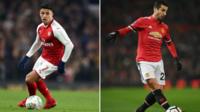 Sanchez 'signing': is it too early to celebrate?
Some unofficial Sanchez United merchandise is already on sale, but the transfer deal hasn't actually been signed yet. But this isn't the first time in sport both fans and clubs have celebrated prematurely. Check out these embarrassing moments!
More sport stories
Image gallery
Playing for the enemy?
With Arsenal's Sanchez rumoured to be joining Manchester United, we've been taking a look at some other sports stars who joined their rival team.