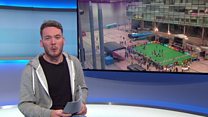 Watch Newsround
23 March 2018 Last updated at 17:05 GMT
Martin has all your top stories this Friday Afternoon, including:
And, American school kids get ready to march for stricter gun laws
During the week this page is updated three times a day, with our 7.40am, 8.15am and 4.20pm bulletins.
At weekends it's updated with the 8.55am, 11.55am and 1.55pm bulletins.
Sometimes for copyright reasons this bulletin can't be shown in full on the website.
A full, unedited, version is always available on the iPlayer Newsround page, here.