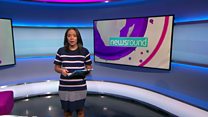 Watch Newsround
26 September 2017 Last updated at 08:40 BST
Leah is here with Tuesday's Newsround, including:
US President Donald Trump clashes with American sportspeople over national anthem protests
During the week this page is updated three times a day, with our 7.40am, 8.15am and 4.20pm bulletins.
At weekends it's updated three times a day.
Sometimes for copyright reasons this bulletin can't be shown in full on the website.
A full, unedited version is always available on the iPlayer Newsround page. That can be found here.