News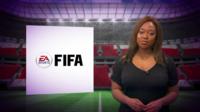 Video 1:46
The boy who cost his mum £600 in FIFA add-ons
Newsround has been to meet the boy who cost his mum £600 in FIFA add-ons because he didn't think it was real real money he was spending.
What is Chinese New Year?
This week, millions of people will be celebrating Chinese New Year, but what exactly is it and how is it celebrated?