Entertainment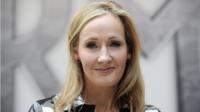 5 things you didn't know about JK Rowling
It's JK Rowling's 50th Birthday today. Newsround is celebrating with Harry Potter style birthday bakes and five facts you may not have known about the author.
31 July 2015

From the section

News
One Direction release surprise single
One Direction have surprised fans by releasing a new single. 'Drag Me Down' is the boys' first single without Zayn Malik, who left the band in March 2015.
More entertainment stories
Ex-Top Gear stars making new show
Former Top Gear presenters Jeremy Clarkson, Richard Hammond and James May have signed up to present a new show on Amazon's streaming service.
'Why Zoella and Gabby fell out'
Gabby gives her side of the story after falling out with Zoella, saying she still "loves" and "misses" her fellow YouTuber.