Entertainment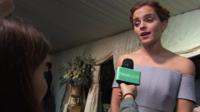 Video 1:50
Beauty and the Beast premiere
10-year-old Emily interviews stars of new film Beauty and the Beast. Find out about special bloomers, dancing on stilts and much more!
More entertainment stories
Who is Prue Leith?
It's been said she's the next Mary Berry and could even take over as a judge on The Great British Bake Off. Here are five facts you need to know about Prue Leith.