Entertainment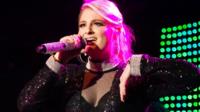 Meghan Trainor recovering after surgery
The US singer posts photos on Instagram to show that she's recovering after having vocal cord surgery.
More entertainment stories
Kermit responds to girlfriend rumours
Kermit the Frog has said that he's not in a relationship with a new member of The Muppets show. The famous frog split with long-term girlfriend Miss Piggy last month.
Taylor Swift wins big at MTV awards
Taylor Swift took home four prizes, including Video of the Year, at the MTV Video Music Awards on Sunday night. The show was hosted by singer Miley Cyrus.
Jess Glynne tops UK album chart
Jess Glynne tops the UK album chart with debut I Cry When I Laugh while Rachel Platten's Fight Song is the UK's number one single.