Entertainment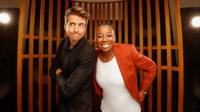 Image gallery
Stars being lined up for new TV show
While weekends at the moment are all about Strictly and X Factor, there's going to be a new show on TV keeping us entertained. Sounds Like Friday Night starts on BBC One in October and producers say it'll feature "the hottest bands and artists in the world". So what can we expect?
More entertainment stories
Who is Banksy?
Two new pieces of artwork by Banksy have appeared in London, to mark the opening of an exhibition by an American artist at the Barbican. But who is Banksy and why is he such a mystery?
Behind the scenes at Minecraft HQ
Ricky's at the home of Minecraft in Stockholm, Sweden, to find out what goes into making one of the most popular computer games in the world!