Entertainment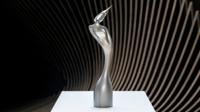 Image gallery
Pictures: Who is nominated for a Brit Award?
The Brit Awards take place on 22 February but who is nominated at this year's awards? Here are the acts up for some of the top awards.
More entertainment stories
Who is Prue Leith?
It's been said she's the next Mary Berry and could even take over as a judge on The Great British Bake Off. Here are five facts you need to know about Prue Leith.