Entertainment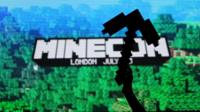 Minecraft fans flock to Minecon show
Minecon, the huge event for fans of the video game Minecraft, takes place in London this weekend. Nearly 10,000 people from around the world are expected to attend.
More entertainment stories
CBBC's Cel Spellman joins Radio 1
Radio 1 has announced CBBC presenter Cel Spellman will be the host for a new Sunday show which will replace the current Official chart slot when it moves to Fridays next month.
Five reasons why Ed Sheeran's amazing
Ed Sheeran's single 'Thinking Out Loud' has now been in the Top 40 for a year, setting a new chart record. But that's not the only thing that makes him amazing!