Animals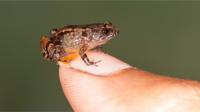 Image gallery
Newly discovered finger nail sized frogs
Seven new species of night frogs have been discovered in India and they are so small they fit on a finger nail, check out the pictures.
22 February 2017

From the section

Animals
More animal stories
Image gallery
Gallery: Baby hippo starts teething
Not too long ago, Cincinnati Zoo had a new arrival - Fiona the baby hippo, who was born six weeks early. She has now started to grow her first teeth! Let's have a look at how she's been getting on.
14 February 2017

From the section

News
Image gallery
Pictures: Unusual animal rescues
Firefighters have been kept busy this week after a puppy needed to be rescued from a tumble dryer vent and another pup got his head stuck in a wheel. We've been taking a look back at other animals who've got into sticky situations.