Animals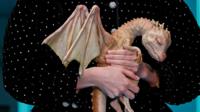 The latest fashion? Carrying a dragon!
Models at a top fashion show have paraded on the catwalk carrying super-realistic animal creations - including a baby dragon!
More animal stories
Image gallery
Unforgettable animal pictures
The National History Museum has named its winner and finalists for the People's Choice Award, chosen from 24 of the best pictures from its Wildlife Photographer of the Year competition.