Animals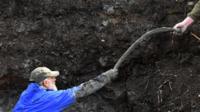 Woolly mammoth discovered by farmer
Bones from an ancient woolly mammoth have been found deep underground on a farm in Michigan in America.
8 October 2015

From the section

Animals
More animal stories
Comments: Your super spider stories
As the summer comes to an end, our eight-legged friends often head indoors to escape the chilly weather. You've been telling us about the spiders that you've been spotting...
6 October 2015

From the section

Home
Video 0:15
Plan to save the Scottish wildcat
Habitat loss, breeding with domestic cats and disease has left the Scottish wildcat in trouble, but conservationists are using hidden cameras in the fight to save them.
29 September 2015

From the section

News