Animals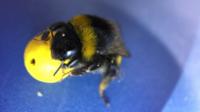 Brainy bees learn from watching each other
Scientists have trained some brainy bumble bees to play golf. They learned by watching each other play with a ball. Clever stuff!
24 February 2017

From the section

Animals
Image gallery
Gallery: Baby hippo starts teething
Not too long ago, Cincinnati Zoo had a new arrival - Fiona the baby hippo, who was born six weeks early. She has now started to grow her first teeth! Let's have a look at how she's been getting on.
14 February 2017

From the section

News