Animals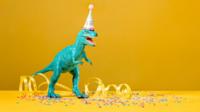 Video 0:57
What was the first dinosaur?
There are lots of different species of dinosaur but which one was the first?
More animal stories
Animals testing their prediction powers!
Russia has chosen a small white cat to predict the winners of the upcoming Fifa World Cup. He's not the only animal that could have predictive powers ... Check out our favourites!