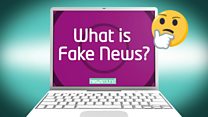 Fake News: Should you learn about it in school?
6 December 2017 Last updated at 05:34 GMT
Fake news has been one of the most talked about subjects of the year.
But what is it and what does it mean to you? And should you be taught about it in school?
Well, one expert thinks children from the age of 10 should be taught in school about how to spot fake news on social media.
A team from the University of Salford has been into hundreds of schools around the UK doing workshops with kids in Year 5, Year 7, and Year 9.
The children they spoke to talked about what news they read, where they get it from, who they trust to be truthful and how they know if news is true or not.
Although most of the children from across all age groups said they knew what fake news was, many of them weren't always sure, when they were presented with fake and real stories, which was which.
Most felt that big news brands, like the BBC or SKY or ITV are the most trustworthy news companies - and they trust news on the TV much more than they trust news that is found online or even on the radio.
Beth Hewitt, who was in charge of the project told Newsround:
"Lots of children understand that fake news exists but can they really spot it when they see it in the real world? That's where lessons would help. This is important because if young people stop feeling they can believe the news is true, they could stop trusting the media at all and even switch off from finding out what's happening all around the world."