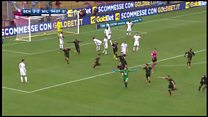 Check out this goalkeeper's last-minute diving header!
4 December 2017 Last updated at 16:55 GMT
It's not often that a goalkeeper scores a goal and this one will be going down in history!
Goalkeeper Brignoli shocked AC Milan with his stoppage-time header to seal his team's first point of the season after 14 defeats!
Little known Italian team Benevento were 2-1 down heading into injury time and looking to remain pointless at the bottom of the table when Brignoli's brilliant header changed their fortunes.
Check out these incredible scenes!