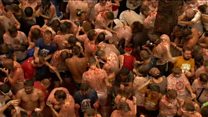 Tomatina! The food fight festival
1 September 2017 Last updated at 12:31 BST
We have all heard of a music festival and even a food festival, but what about a tomato festival?
Welcome to Tomatina, the tomato festival where you don't eat them and enjoy the taste.
You fling them at the nearest person as quick as you can until everyone is covered in tomato mess!
Check out the video to find out more about this weird and wonderful festival...