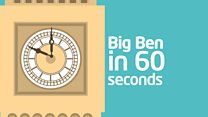 Big Ben: Everything you need to know in 60 seconds
18 August 2017 Last updated at 11:18 BST
A big row has been going on over Big Ben's famous chime.
There are plans for the bell to be silent for four years while repair work is done.
But not everyone is happy about it.
The plans aren't set in stone yet but we thought it would be a good opportunity to tell you a bit more about Big Ben.
Here is our 60 second guide.