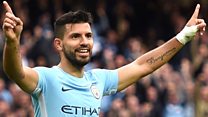 Match of the Day Kickabout: Premier League Round-up
25 September 2017 Last updated at 07:49 BST
It's been another busy weekend in the Premier League.
Catch up on all the results, the goal scorers and the stories making the headlines with Match of the Day Kickabout.
MOTD Kickabout is on every Saturday morning at 7.45am on the CBBC channel.
You can also watch the latest episode on CBBC iPlayer.