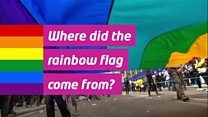 Where did the rainbow flag come from?
26 July 2017 Last updated at 09:23 BST
The rainbow flag is a symbol for gay pride all over the world.
You will see the striped flag a lot at Pride festivals. These festivals, which started with an event in London in 1972, celebrate the gay community and show support for equal rights for everyone.
The flag is flown in cities across the world and many people wear it as part of their outfits to show their support for the gay community.
But where did the flag come from?