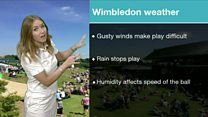 Wimbledon: how does the weather affect things?
15 July 2017 Last updated at 08:33 BST
The weather at Wimbledon can be important for all sorts of reasons.
And it's not just about rain and having the centre court roof open or closed.
Here's BBC weather presenter Abbie Dewhurst to tell us who the sun could help and what impact "thin" air could have.
Watch this...