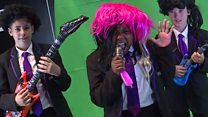 Rock and roll times tables!
10 July 2017 Last updated at 08:55 BST
Meet the kids combining air guitar and rock star photo shoots with... learning their times tables!
It's all part of a fun way to help children improve their number skills.
They work towards the finals where they battle it out with their maths and rock skills to become the ultimate rock hero!