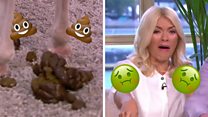 p-Oops! A horse had an accident on live TV!!
5 July 2017 Last updated at 14:06 BST
Presenters and guests on daytime television show This Morning were left in hysterics after a certain four-legged friend in the studio decided she needed the loo.
That's right - a naughty horse called Molly decided to do a poo on the carpet - live on air!
Presenter Holly Willoughby said it was her "favourite thing she'd ever seen".
Take a look at what happened!