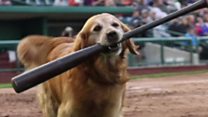 Baseball's hot dog!
29 June 2017 Last updated at 08:20 BST
Meet Jake the Diamond Dog who helps out at baseball games in America.
For years he's been helping to keeping everyone cool at minor-league baseball stadiums.
Jake brings bottles of water, fetches dropped bats and waits patiently for the umpires to finish before exiting the field.
And sometimes he even gets a game of frisbee!
Take a look at Jake in action.