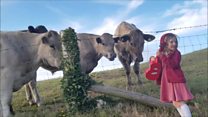 A very moo-sical moment!
28 June 2017 Last updated at 08:47 BST
This is one way to keep the wildlife happy!
Whilst on holiday at her grandparent's caravan, in Llandudno in Wales, five-year-old Bella spotted a cow in the next door field decided to entertain it with her ukelele.
Well, pretty soon the rest of the herd heard her efforts, and they all came to hear the performance.
Watch this!
Pictures courtesy of Mags Lowe