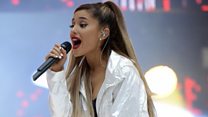 Fans excited for Ariana Grande's One Love Manchester concert
4 June 2017 Last updated at 15:08 BST
Manchester is getting ready for Ariana Grande's benefit concert tonight and Martin's been talking to young fans who'll be attending.
The concert is to raise money for all the people affected by the concert attack in the city on 22 May.
Lots of famous singers are joining Ariana for the One Love Manchester concert including Justin Bieber and Katy Perry.
Watch fans talk about what they're looking forward to tonight...