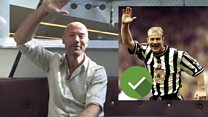 How well does Alan Shearer REALLY know the FA Cup?
27 May 2017 Last updated at 08:59 BST
Arsenal and Chelsea are meeting in this year's FA Cup final at Wembley Stadium today.
Former England captain Alan Shearer played in two finals while at Newcastle - but how well does he really know the FA Cup?
Newsround went to meet him ahead of this year's Wembley showpiece and set him 10 challenging FA Cup questions.
How well do you think he did? Can you do any better?