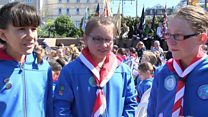 What does Liberation Day mean to Channel Island children?
10 May 2017 Last updated at 09:29 BST
People in the Channel Islands have been celebrating the day their islands were freed from Nazi rule - 72 years ago.
The Channel Islands are made up of five small islands: Guernsey, Jersey, Alderney, Herm and Sark.
They sit in the English Channel between England and France, and were taken over by the Germans during World War Two.
Each year on 9 May islanders take part in special Liberation Day parades through the streets, and share memories of what life was like at that time.
Children who live in the islands have been talking about why it matters to them.