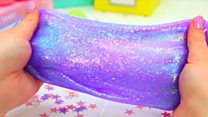 Slime: What's the deal with the new gooey global craze?
9 May 2017 Last updated at 08:19 BST
Slime - it's gooey, it's sticky and it's slimy, of course!
Now, loads of you are making it at home with the help of how-to videos on social media.
But there are some worries that one ingredient you use to make it, called Borax, can cause a bit of a problem.
Watch Ayshah's report to find out more.
Pictures courtesy of Gillian Bower and Talisa Tossell