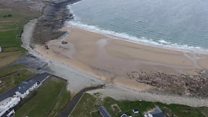 Irish beach washed away returns after 33 years
8 May 2017 Last updated at 10:29 BST
A beach in Ireland that was washed away 33 years ago has re-appeared after a freak tide.
Most of the sand on Achill Island disappeared in 1984 after spring storms washed it away, forcing almost all the local hotels, guesthouses and cafes shut down.
But now the beach has returned after hundreds of thousands of tonnes of sand were dumped there by storms over 10 days in April.
People that live there are hoping the beach will stick around for long enough to bring the tourists back.
Take a look!