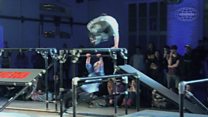 Could tag become an official sport?
5 May 2017 Last updated at 14:52 BST
We bet many of you have played this game in your playground.
Whether you call it tig, tag, you're it!
Or another name, we've all run around with our friends trying to avoid being caught by the person who is 'on'.