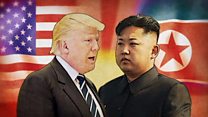 What's going on in North Korea?
30 April 2017 Last updated at 14:50 BST
For decades, North Korea has been one of the world's most secretive countries.
It's a country in east Asia, and there have been lots of arguments about it recently.
So what do we know? And should we be worried about North Korea?
Watch Leah's report to find out more.