Chat: What do you love about Easter?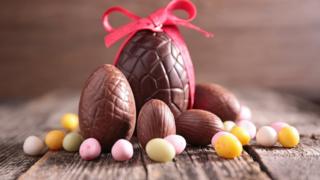 It's Easter weekend, and we want to know what's your favourite thing about it!
Are you all about the egg hunt, are you looking forward to some serious chocolate or maybe you love spending time with family and friends?
Let us know what you love about Easter.
This chat is now closed, thanks for sending in all your comments. Happy Easter!
Your comments
Hello my name is John and I'm 7 and this Easter I am going on an Easter egg hunt with my mummy and big sister in my back garden!
John, 7
Hi my name is Paul and this Easter me and Charlotte are going on an easter egg hunt. Please could you say tell Charlotte hello and that I look forward to seeing her!
Paul
This Easter I have been up to lots of things like going to church , baking , going to the park with my bike and lots more. On Easter Sunday , I am doing a Easter egg hunt at my Sunday school. For Lent I gave up chewing gum and bubble gum but not chocolate, I'm too obsessed with it.
Bella, 9, South London
I am going the the park on my bike and having my chocolate Easter egg.
Hope, 16, Scotland
I have given up chocolate for Lent and it's the hardest thing I've ever done! I'm really pumped for Easter Sunday when I can eat all the chocolate I like.
Olivia, 11, London
Eating chocolate & having a nice family meal
Joseph, 14, Northamptonshire