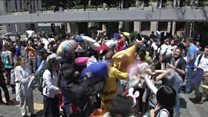 International Pillow Fight Day: Get your pillows ready!
1 April 2017 Last updated at 09:15 BST
It's International Pillow Fight Day, and these guys in Hong Kong have been celebrating with a big pillow fight!
Some people wore their pyjamas whilst others decided to wear costumes instead.
The event organiser Tom Grundy said it was a good way to let off some steam and get the community together.
This is the seventh time the event has been held, and people all over the world can join in.