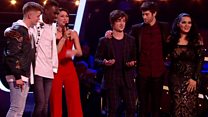 Meet the finalists of The Voice 2017
31 March 2017 Last updated at 17:06 BST
Four finalists will be battling it out to be crowned winner of The Voice 2017.
After a close semi-final, Max Vickers, Craig Ward, Truly Ford and Jason Jones were sent home.
This means Gavin Rossdale is the only coach without any acts in the final.
Watch Newsround's video to see the final four.