Cristiano Ronaldo's statue hat trick.. and four other weird statues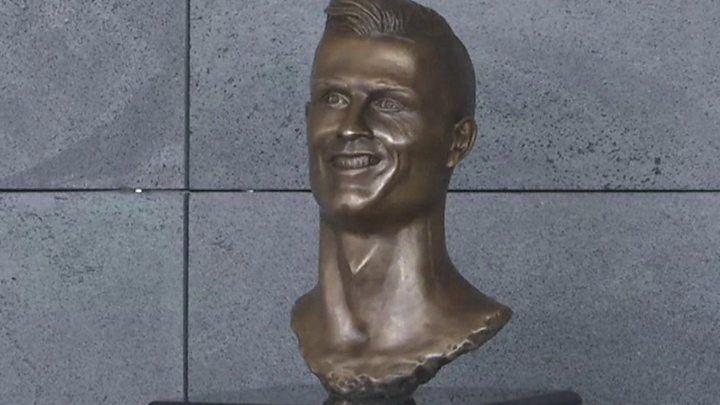 A new statue has been revealed of one of the world's most famous footballers.
But loads of people aren't sure who it is supposed to be - can you tell?
It's Cristiano Ronaldo, of course. The statue was revealed at a ceremony to name an airport after him on the Portuguese island of Madeira.
The statue has become a bit of a joke as people say it doesn't look anything like him.
But it wouldn't be the first time a celebrity statue hasn't come out quite how you might expect. Check these out...
ANDY MURRAY
Let's start with an ace.
This is Andy Murray standing next to a statue of him dressed as a Chinese warrior ahead of the Shanghai Masters in 2011.
We know. It looks nothing like him.
The question everyone is asking is why does it look so much like Jose Mourinho?
MICHAEL JACKSON
Pop star Michael Jackson was a big fan of statues being made of him.
He once floated a huge statue of himself down the river Thames in London.
After Michael Jackson's death this statue was put up outside Fulham Football Club by the team's then-chairman who was big friends with the singer.
It was a kind thing to do but not all the fans were happy about it and the statue became a bit of a joke.
It was moved in 2013 and is now outside the National Football Museum in Manchester.
DAVID BECKHAM
This silver statue of former England captain David Beckham in just his underpants was put on show in New York, USA, as part of an advertising campaign.
It was supposed to be a clever joke but in the end most people were laughing at it rather than laughing with it.
ZINEDINE ZIDANE AND MARCO MATERAZZI
Real Madrid Manager Zinedine Zidane was a legendary player.
He won the Champions League with Real Madrid and he won the World Cup 1998 and Euro 2000 with France. He won the World Player of the Year Award 3 times.
But the statue that was made of him is of one of his worst moments.
The former France captain was sent off in the World Cup Final in 2006 against Italy.
He butted Italy defender Marco Materazzi in the chest and was given a red card.
CRISTIANO RONALDO
The new statue that's caused a fuss isn't the first one of Cristiano. In fact he's got a hat trick
In second place we have this giant...
Measuring in at 3.4m tall, the statue takes pride of place in CR7's hometown of Funchal in the island of Madeira, which is part of Portugal.
At least the pose is right...
And finally...
He looks much more proud of this statue - he's even making sure the hair is right
Believe it or not this statue is actually in the Cristiano Ronaldo Museum.
Yes, he has his own museum - take that Lionel Messi!