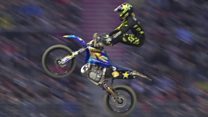 Stupendous stunts on motorbikes!
26 March 2017 Last updated at 14:15 BST
Check out these super-cool motorbike stunts!
This video comes from the Night of the Jumps competition in Krakow, Poland.
Some of the biggest name in the sport were taking part.
They were doing crazy jumps with crazy names like the California Roll, Nac Flair, Seat Grab Flip, the Egg Roll and even the Lazyboy Flip!
Enjoy!