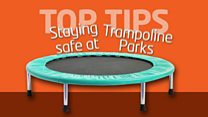 Top tips for staying safe at trampoline parks
27 March 2017 Last updated at 08:47 BST
Trampoline parks are popular in the UK, and whilst they are fun, they can be dangerous too.
A recent investigation by BBC Radio 5 Live found that in just one year, ambulances were called out to 30 different trampoline parks in the UK more than 300 times.
Broken bones were the top injury suspected by the paramedics, as well as head, back and foot injuries.
Peter Brown is chair of the International Association of Trampoline Parks, which sets rules on health and safety at trampoline parks.
Here's some of his top tips for staying safe.