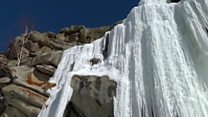 A 30-meter-high icicle has been found in the Northwest of China
19 March 2017 Last updated at 11:05 GMT
An icicle 30 metres high and 15 metres wide has been discovered in the Northwest of China.
It was made by snow melting and dripping down the side of a cliff.
People have been travelling to take a look, but it isn't easy to get to, it takes around an hour to get there on horseback.
Check it out...