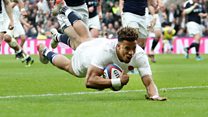 Last weekend of 6 Nations, there's plenty to play for
17 March 2017 Last updated at 11:10 GMT
It's the last round of 6 Nations games this weekend.
England guaranteed they would lifting the trophy for the second year running after beating Scotland 61-21 last week.
If they beat Ireland on 18 March they will break the record for the most wins in a row.
So despite the winner already having been decided there's still a lot to look forward to as Martin reports.