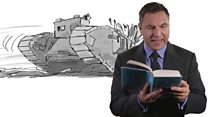 What was David Walliams' favourite childhood book?
7 March 2017 Last updated at 13:16 GMT
Whether it's gangsta grannies, awful aunties, or demon dentists, David Walliams is famous for writing stories that make us laugh.
The author has been answering questions from his fans.
What was David's favourite story when he was growing up? And why does he prefer evil teachers to nice teachers?
Watch the video to find out!